Gift ideas for starting school
Gift ideas: What to give to students of different ages on the first day of school.
The beginning of September is a time for new adventures for all students. First graders are excited to pack their backpacks and other students are excited to see their classmates and share adventures that took place over summer. But how to make this special day even more special? We have put together surprising gift ideas for beloved teachers and students of different ages.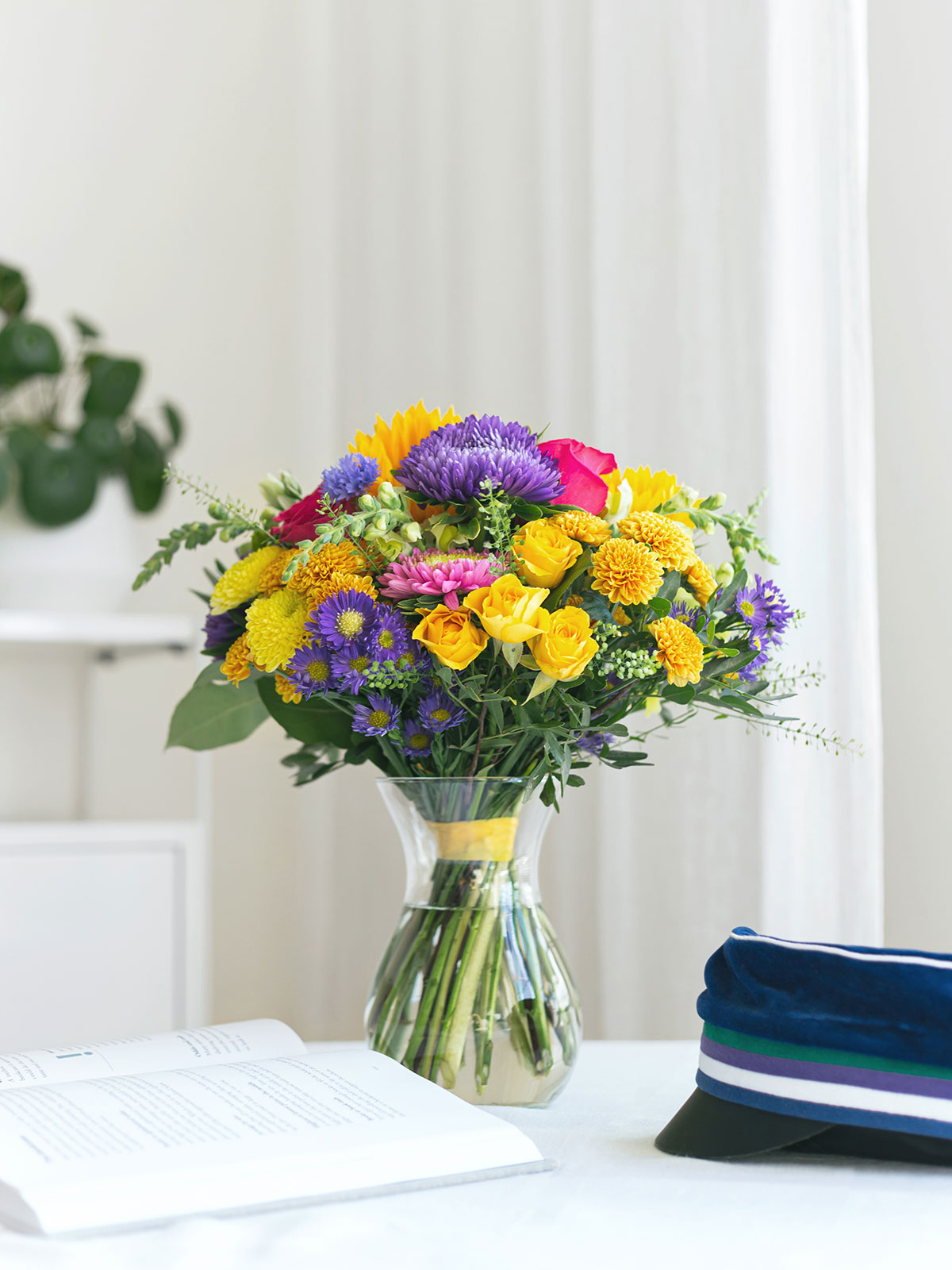 Gifts for those, whose school path is just beginning
The very first day of school is extremely important to all first graders as well as to their parents. It's a special day, when those tiny people pull up their humongous backpacks, grab a punch of beautiful flowers and with very confident steps enter their school for the very first time.
When picking a present for the juniors, remember to go for bright colours, joyful shapes and positive vibes.
For that special occasion, a soft cuddly Teddy Bear would be a perfect gift. You will find it under additional products after you put a bouquet into your shopping basket. Cuddly is a good companion during long school days and a sweet friend in the evenings. To brighten up the day and follow the traditions, fun and colourful flower bouquets are a must-have. Flower bouquet Magic garden adds colour and festivity to all the photos taken that day.
Gifts for primary school students
On the first day of school, every student feels the joy of seeing their classmates again and a happy atmosphere is surrounding everyone. For many children, red and pink gerberas will remind them of warm hugs and lovely wishes their parents give them on the first day of school.
In celebration of that special occasion, it is very suitable to give pink and violet flowers, because they symbolize joy and success
We would recommend going for a flower bouquet Flower celebration, which is made of red and violet shades that will go perfectly with the end of summer vibe. If you would like to increase the excitement, even more, surprise your loved one with a fun present!
Gifts for high school students
When primary school ends a big part of the education path is over and youngsters want to go towards new adventures. For many graduates, the next step in high school. To acknowledge this decision of a young person, show your respect with a heartwarming flower bouquet. In celebration of a new beginning, you can share positive emotions by using yellow and orange flowers. They symbolize everything that a new school year should be – infinite joy and the start of a new beginning like our Sunray bouquet.
For those who love more edible presents, you will find a gourmet gift basket filled with sweet treats. Gourmet basket contains tasty sweets which students can snack on while doing their homework or enjoy with classmates on the first day of school.
Present ideas for university students
Going to university can be exciting for freshmen and for those who are pursuing their studies. To make students happier, surprise them with colourful flower bouquets. Usually, autumnal flowers are orange and yellow, but we recommend spicing them up with violet colours. Purple and violet colours symbolize success and dignity, everything that one university student should be. In addition to that, bouquets in warm colours will bring joy to every house, flat and dorm room.
Send your surprise on the way with a currier or pick up flowers from your local flower shop and hand them over personally.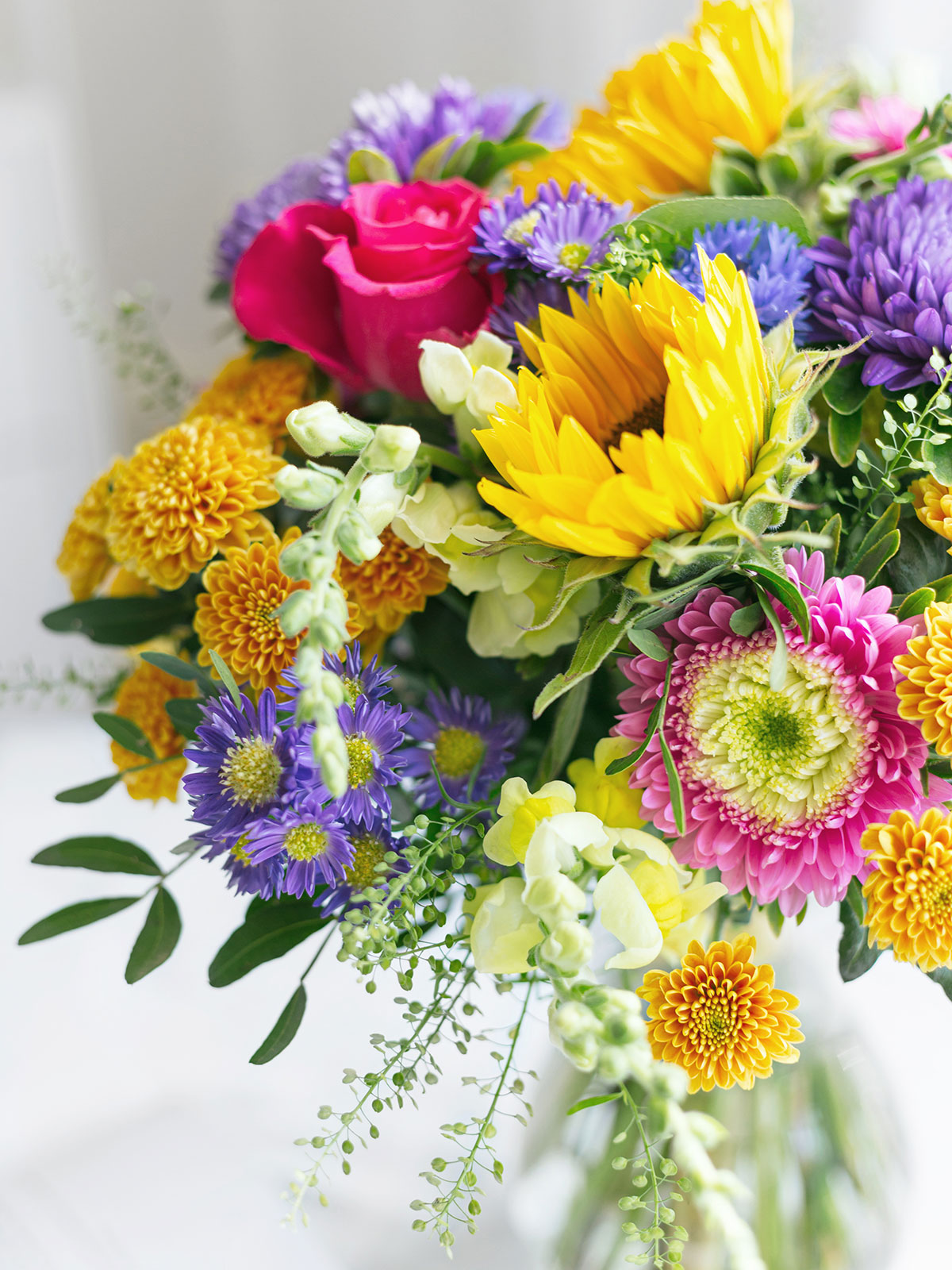 Order the bouquet on the photo: 1st of September.
Present to thank dedicated teachers
In celebration of the beginning of the school year, there is a known tradition to surprise teachers with beautiful flowers. Acknowledging others' hard work will motivate them to do even better.
When looking for suitable flowers a lot of people think of colourful chrysanthemums and adorable asters. Both of them are autumnal flowers that every teacher is happy to receive. In addition to those flowers, it is always kind to surprise educators with a bouquet of the day. You can count on it that you and the receiver of the gift will be positively surprised. Each bouquet is special and unique and is made according to the inspiration of the florist.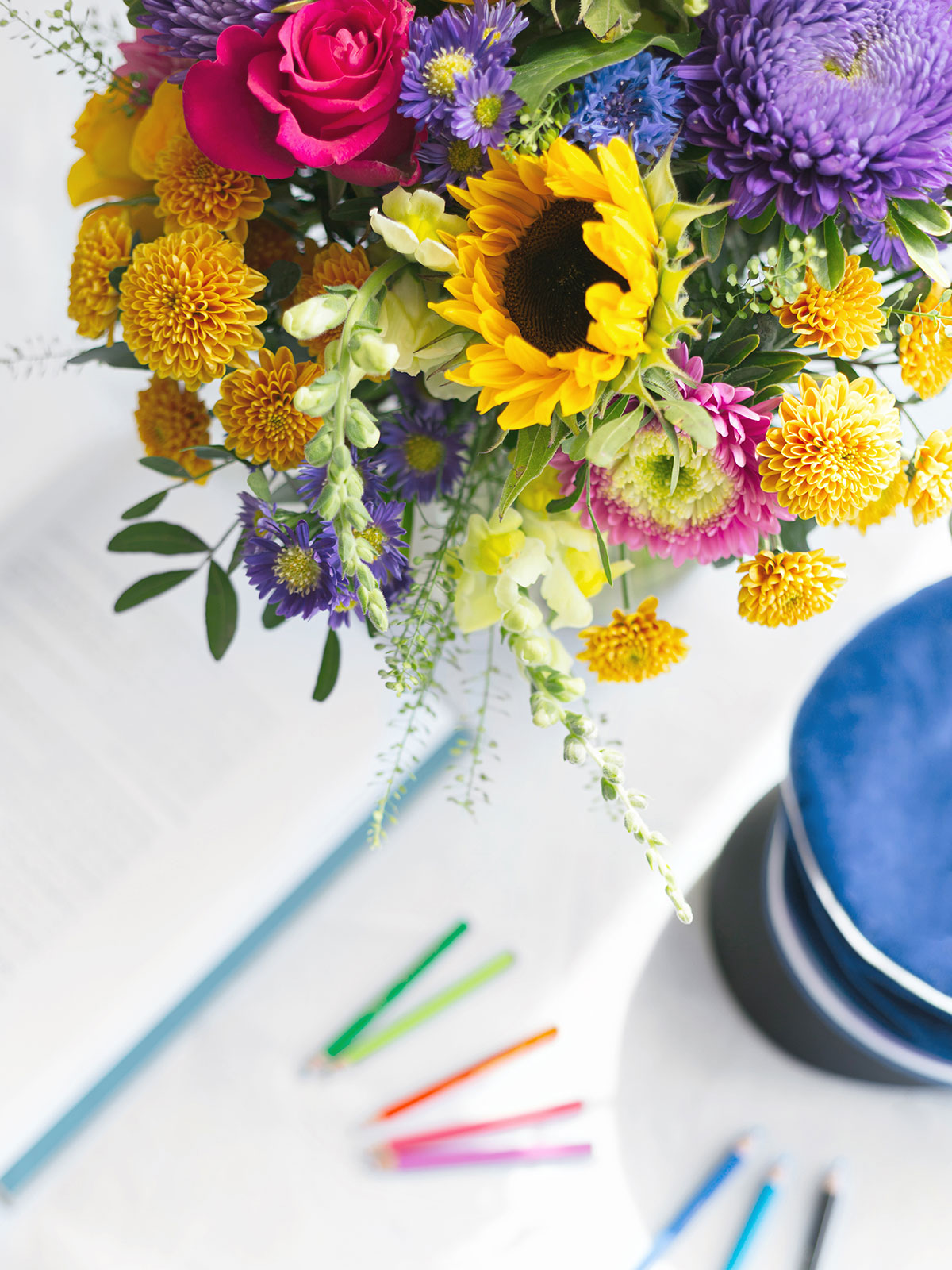 The first day of school is important for students, teachers and their closest people. With our fast-paced life make sure that you won't miss any special occasions. You can make it easier to remember all your beloved people to My people on the Fleurop page. That we will notify you when an important event is approaching. Make your order in our webshop. You have the option to surprise the receiver with fresh flowers right to their door, order flowers to your own home or pick them up from the flower shop.